Assessing Digital Competency
Measuring Digital IQ
Every digital journey, for Fortune 50s and small businesses alike, begins with analysis. Our Digital Competency Assessment ™ reveals digital knowledge, perception, and behavior across an organization, and uncovers pockets of internal strength and weakness across divisions, functional areas, and seniority levels. The short exam is created and vetted by our digital experts in every digital discipline, and in every region around the globe. It is incessantly current, and maintains accurate comparisons to allow an organization to measure how it stacks up against others in a given space or region.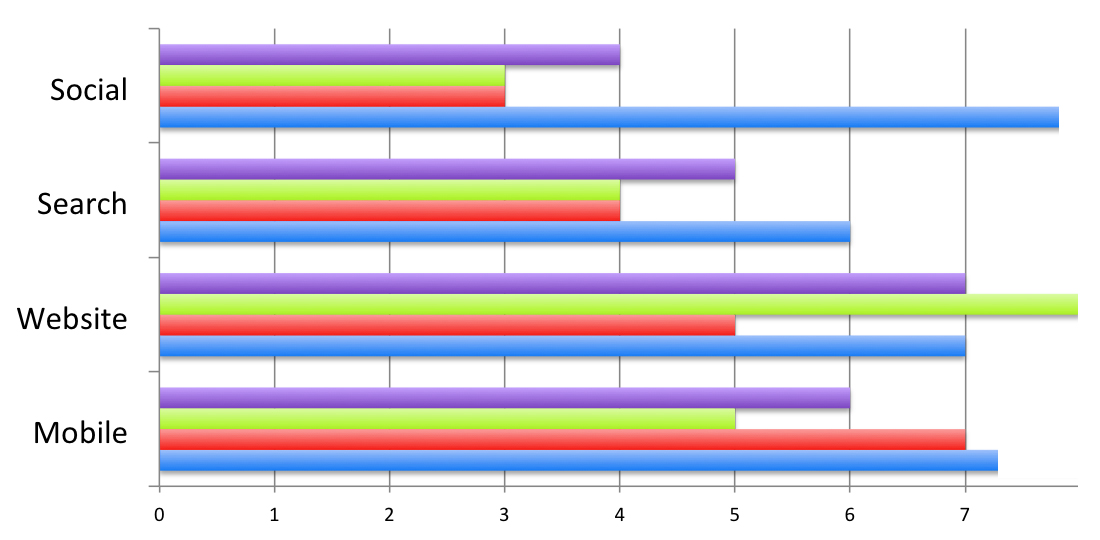 Benchmarking Against the Competition
To supplement the internal assessment, companies often like to assess how their external performance across digital channels like social media, mobile, and search stack up with the competition. Our benchmarking analyses assess digital performance across more than 200 public data points using big data insights and proprietary algorithms. A complete internal and external analysis provides a complete and holistic picture of a company's present Digital IQ, and can even measure progress over time.
The Start of Your Digital Transformation
Company executives will receive a detailed visual report at the conclusion of these studies. Our report provides recommendations for expanding upon and propagating strengths, as well as targeted consulting and education to fill knowledge and practice gaps. We firmly believe that an accurate organizational assessment is an essential first step in beginning the digital transformation. Armed with the right data, your firm can evolve to thrive in the digital world of tomorrow.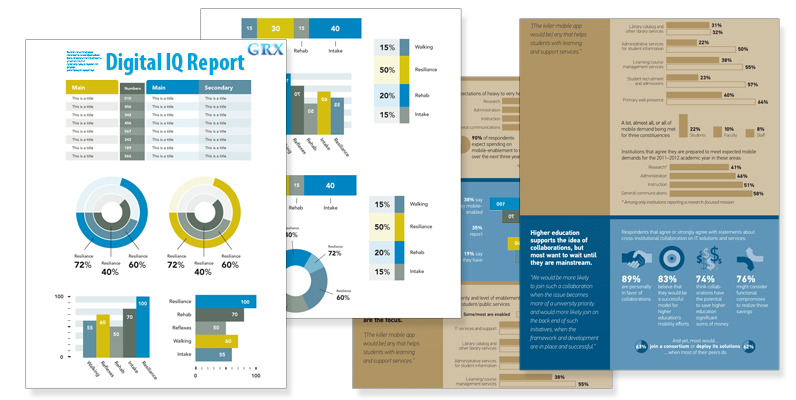 Corporate Education
Tailored Digital Marketing Training
GRX is a global leader in digital marketing education. We work with top universities and many of the most recognizable brands to transform businesses to compete and thrive in today's digital world. Our tailored programs are customized for the industry, brands, and roles of participants in each and every training program. Offerings include on-site in-person programs of all lenths, levels, and depths, as well as world-class online solutions to meet the needs of our client brands.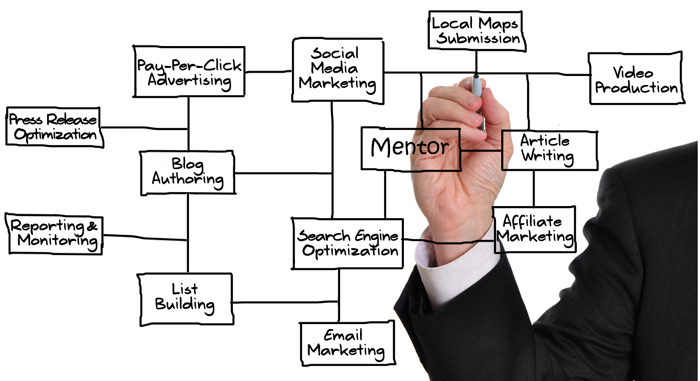 Executive Education ROI
Our programs are not simply education for the sake of knowledge. Our goal with each and every training program is to move the needle for brands. We design programs that specifically address knowledge and perception gaps, unlocking the organization's digital potential and ability to execute effective digital initiatives. Training is an investment in your organization's future, and we believe all training should have a measurable impact on an organization's bottom line.
Strategic Consulting

Transform Your Brand
Our extensive network of consultants spans five continents, and includes many of the most eminent practitioners in a wide range of digital disciplines. We're able to supply the optimal mix of talent and specialties to fill knowledge and practice gaps discovered by our competency assessment.
True Masters of Their Craft
Our digital world is evolving rapidly, and keeping pace with everything is impossible for any one individual. Each of the consultants and firms represented by GRX specialize in just one or a few digital channels or strategies, making them true experts and thought-leaders in their field. As a whole, the GRX network is equipped to tackle any digital problem along your firm's path toward digital transformation.

Thought-Leading Speaking
GRX consultants all frequently speak at conferences and in corporate education and training programs. If you're looking to fill a speaking role with a dynamic subject-matter expert, or would like us to be introduced to someone in the GRX network, feel free to contact us.
Digital Strategy
Companies large and small must create holistic and integrated digital strategies to achieve optimal results and generate ROI from digital campaigns.
Content
Marketers must now play the role of publishers—creating, curating, allocating, and propagating interesting content to engage the digital generation.
Search
Effectively allow customers to find you through organic and paid channels, and serve them the exact content they're looking for to achieve conversions.
Mobile
Utilize mobile apps, optimized mobile websites, SMS, and location-aware strategies to reach customers on-to-go at just the right moment.
Social Media
Effectively utilize Facebook, Twitter, LinkedIn, and Pinterest to continually engage customers and maintain a positive brand image.
Video
Create and propagate rich and interactive video campaigns that reach your audience virally, and manage your brands YouTube presence.
Websites
Create effective and efficient websites that are discoverable, navigable, intensely personal, and rich with the content your customers seek.
Legal
Successfully navigate the legal, regulatory, and internal governance issues and pitfalls that surround social and digital strategies.
Measurement
Employ effective analytics strategy by choosing the right technology, and the right talent, to measure and optimize digital strategies.
Digital Leadership
Identify, cultivate, and acquire digital leaders that can help inspire and propel your organization toward digital perfection.
Org. Design
Evolve your organization's structure and design to effectively distribute digital competency throughout the talent and departments of your organization.
Dig. Transformation
Transform your organization into a digitally-competent powerhouse using proven, incremental change management principles.